Thanksgiving is a time for family, friends, good food, gratitude, and amazing decorations of course! There is something beautiful, warm, and cozy about the fall. Amidst all the preparation that hosting Thanksgiving entails decorations can easily be forgotten. Here are a few quick and easy last minute DIY decorations to spruce up your home and table.  These seasonal crafts are sure to make a statement this fall.
1. Pumpkin Place Card. Metallic spray paint can add a stylish touch to any pumpkin – real or plastic. Paint some mini pumpkins and add a cute name tag for a personal touch. Put some in a basket or large base for an inexpensive coordinating centerpiece. If you go with plastic pumpkins – you are set for next year too!
2. Wreath Place Card. Create a delicate detail with an added scent. Make tiny wreaths for each place setting using small pieces of Rosemary. Soak the rosemary in water for added flexibility. Secure a 7-8″ strand of Rosemary in a circle with floral wire. Cover the floral wire with a small bow out of twine or string. Add a name card, and you have a perfect addition to the table.
3. Turkey Pretzel Jar. Doubling as cute decor and a delicious treat, this chocolate turkey is sure to please the little ones. Who doesn't love the perfect mix of sweet and salty? Dip long pretzel sticks in chocolate and add some fall colored sprinkles to create the "feathers." Next, add googly eyes and beak of felt to a round vase. Fill the jar with M&Ms or your favorite chocolate candy, stick the pretzels in, and your turkey is good to go!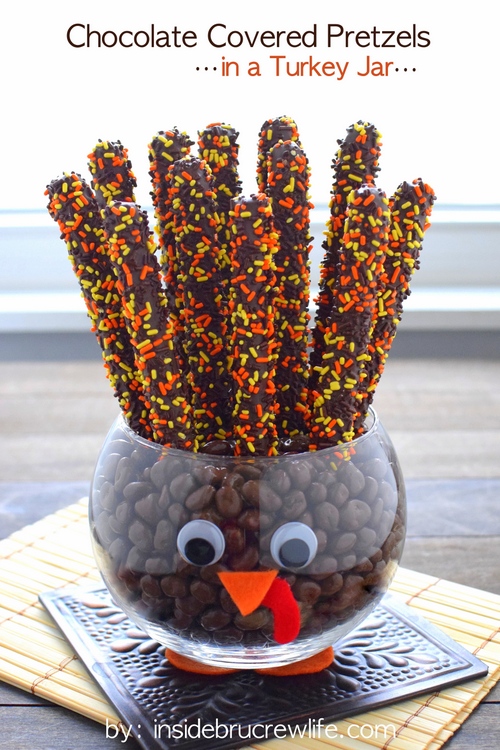 4. Feather Garland. Everybody loves a dainty strand of garland. Grab an assortment of tall feathers, spray the ends with gold paint, and string together for a quick decorative touch to the mantel or buffet. If you don't have time to buy feathers, simply collect some large leaves from the yard and do the same! All you need is string, spray paint and a glue gun.
5. Chalk Paint Pumpkin. Decorate your table this fall with some vintage inspired pumpkins. Whether you choose some warm blues or soft neutrals, these heirloom looking pumpkins will be a great addition. Simply paint and let dry! You can add a little depth with dark wax, if desired. For a less traditional look, try using chalkboard paint instead. You can add a cute message or dinner menu.
6. Paper Bag Placemats. Make placemats out of paper bags – both simple and sweet. Cut open a paper bag to lay flat. Add a personal touch and conversation starter by including an area for guests to write what they are thankful for this year.
7. Wheat Horseshoe Wreath. Nothing says fall quite like a harvest wreath. Using a coat hanger or wire, create a horseshoe shape. Separate dried wheat into groups of 5 and wrap together with floral wire. Make about 10 of these bundles, or as many as you need to fill your horseshoe. Attach the bundles to both sides of the wire horseshoe with the floral wire, leaving space in the middle. Add a pop of color or keep it neutral by tying a bow with ribbon of choice to the middle.
8. Box Grater Luminaries – Add a little lighting to the dinner table scape, sideboard, or coffee table. All you need is a few box graters, a tray, and votives. Arrange the graters with the votives underneath on your tray. Add in some extra candles, acorns, leaves, mini pumpkins or any other fall items to complete the look.