A word to the wise – a pearl necklace is a jewelry piece for all seasons, with the ability to add style, sophistication, and both vintage charm and contemporary confirmation to your wardrobe.
And when it comes to those colder winter months, pearls are accessories that are an outfit changer, with an enviable simplicity that transforms a look without demanding to be the star attraction.
With Stella McCartney grabbing the catwalk headlines with her bold and quirky twist on the pearl necklace, the stage has been set for this classic jewelry piece to be a season favorite.
Photo courtesy of Vogue
But away from the catwalk, what are the looks that are grabbing the fashion world's attention for Winter 2015?
The roll-neck jumper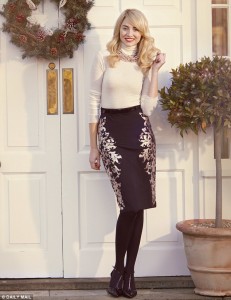 Photo courtesy of Daily Mail
Certain looks refuse to go out of style, and the roll-neck jumper remains the perfect partner for a simple strand pearl necklace.
2015 sees the roll-neck take on a bolder look, with less of the iconic pastels, and more of the honest color palettes such as ice-white, deep blue and forest green. A single, double or even multi-strand classic pearl necklace sits idyllically under a roll-neck, and whether worn as a choker, a midi or longer length piece of jewelry, will ensure you are admired as a lady with a touch of fashion class.
The Checked Shirt
Photo courtesy of A Spoonful of Style
The checked shirt has been a fashion winner for the last few seasons and 2015 sees it remain as a fashionista favorite.
With a look that can't hide it's masculinity, the addition of pearls to a checked shirt adds that perfect
feminine touch. Feel free to go chunky with larger beads and don't be afraid to mix it up by varying the lengths and pearl size. A heavier pearl necklace look defines the silhouette and slims the waist as well as elongating the neck, ensuring you are emphasising the positives of your figure.
Not-so Casual Denim
Photo courtesy of Pinterest
The staple of a women's wardrobe, break the rules of casual dressing and make wearing denim the look that friends are rushing to copy.
Winter 2015 sees baggy fashion at the forefront, bringing supreme comfort to everyday dressing but with no compromise on its sense of style.
The blue of any denim is the perfect backdrop for the creamy-white perfection of the pearl. Whether it's a classic denim shirt, or a fashion take on this classic look, a single or multi-strand pearl necklace adds just enough to the look to elevate it to another level. Combine with skinny jeans for a lunch date with friends, or go leather with tight black trousers for an evening of deserved fun – the pearl necklace is
adept at adapting to any social occasion.
Combine your styling
Photo courtesy of Styles Weekly
But nobody ever said that supreme styling was all about a single look, so as much as wearing a shirt and a jumper creates warmth along with a unique versatility to your winter wardrobe, don't be afraid to mix pearls with other jewelry pieces. Just like the expression 'diamonds and pearls', the pearl's unassuming nature makes them the ideal jewelry piece to match with virtually any other item.
What is your favorite fashion trend this
season?