Did you know that the jewelry industry has standard necklace lengths, measured in inches? And ladies, size DOES MATTER when it comes to choosing your necklaces! Check out the chart below for standard size options for women: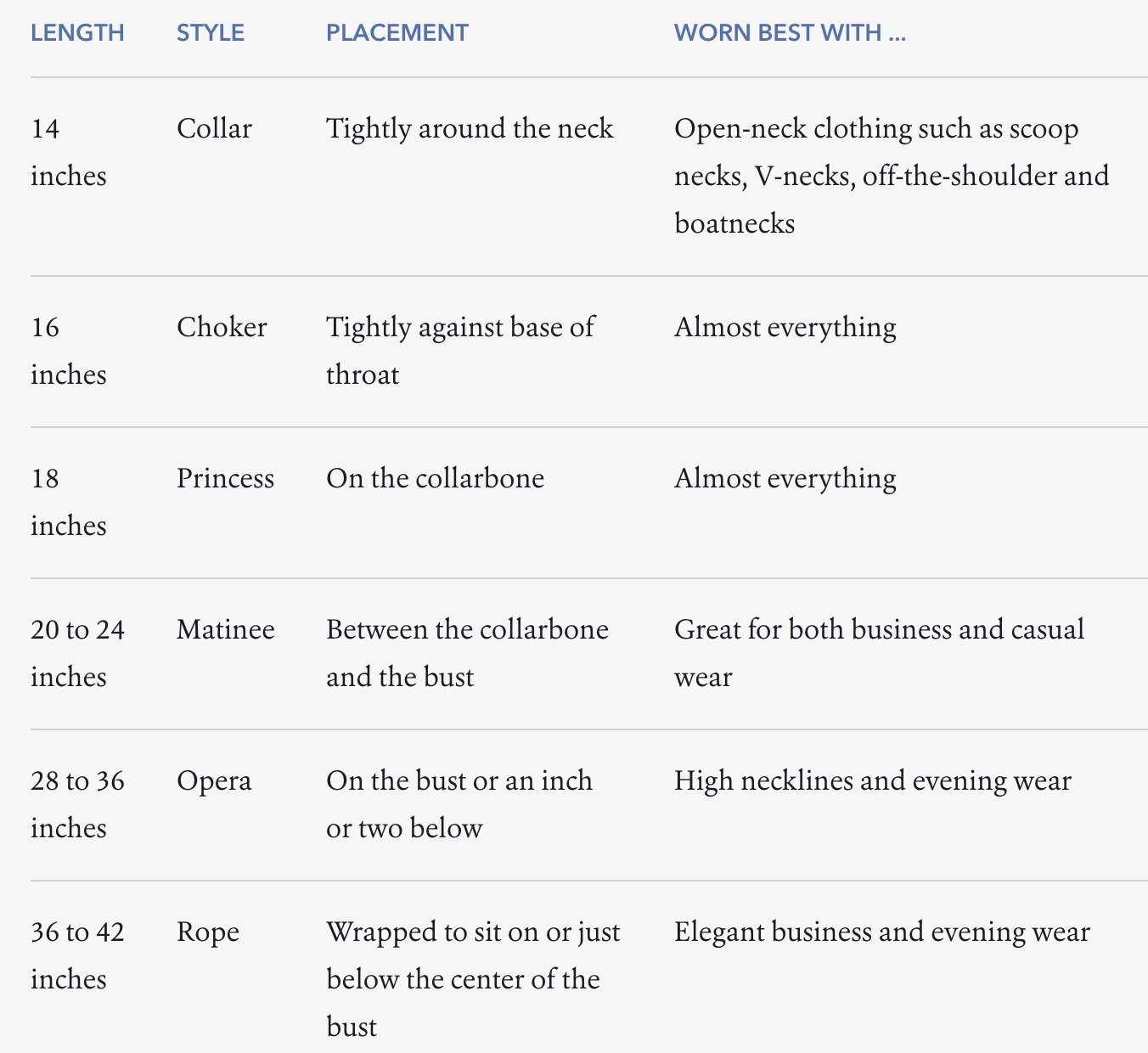 Need help on where to start? Go look at your current jewelry collection and choose the necklace you wear most often. There's a reason you like it — it's fun, flattering, and classic. Now, measure the length of that necklace (or the clasped length and double it), and chances are that length is the most flattering one for you.
If you prefer a more scientific method to choosing the best necklace length for your neck, consider your entire body — from face shape, bust size, height, and general body type.
Lengths and Widths

A wide, short neck should avoid choker length necklaces and aim for necklaces that are 20-24 inches long. This will elongate the neck!
If you are shorter or full-figured (including your bust), pay attention to where the necklace falls on your upper torso. You don't want it to land in a distracting area, if you know what we mean.
Women of average height and taller than average height can wear almost any necklace length, but short women can get lost in longer necklaces. If you are 5'4″ or shorter, try choosing lengths that sit on your collarbone or just below.

Face Shape

Oval faces can wear any necklace length so long as they consider height, neck, and body size
Round faces should stick to longer necklaces that create a slimming "v" as it hangs on your torso
Heart-shaped faces and rectangular faces benefit from rounder necklaces such as chokers to help smooth out the face's planes and angles

Wardrobe Style

Once you have decided what you're wearing, make sure the necklace length you choose adds to the outfit's overall look and enhances your appearance
Consider your top's necklines and how it will accentuate the necklace
At HinsonGayle, we have necklaces of every size, shape, and color. Our top of the line pearls look amazing on everyone — head on over to our shop to find your perfect necklace today!